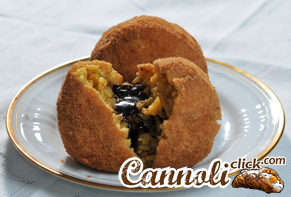 Some days ago, one of our best clients Luigi, who had already tasted our traditional arancini, enthusiastically suggested us to offer our beloved clients the sweet version: chocolate arancini.
To be honest I wasn't aware of their existence, but I was really tempted by the idea, so I immediately called our pastry chef who confirmed that chocolate arancini were not only delicious, but they were also part of the Sicilian culinary tradition. He told me he used to prepare them many years ago, and that nowadays it is almost impossible to find them.
He cooked some chocolate arancini for me, and right after tasting, I decided to put them online!
Rice is cooked with the milk and it goes perfectly well with chocolate. The taste of the crispy coating combined with a sweet filling make of this arancino a tasty masterpiece!
It is impossible to resist them! During the photo shooting for our website (Cannoli.online), our photographer Mario and I were always eating them, and no arancino was left!
Chocolate arancini will be prepared immediately the day after the online order and sent within the 24 hours with UPS Express Saver.
What do you think? Give us your advice or tell us about your experience.